Renew Your Vehicle Registration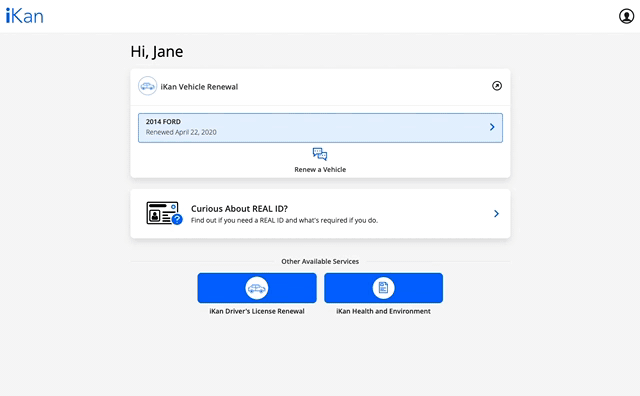 Use iKan to renew your vehicle registration and pay vehicle property taxes online with a credit/debit card or linked bank account.
Login
To get started, create an account with your email address + password, Google, or Facebook, or select the guest login option. Creating an account will save your vehicle information in iKan, and expedite the process next time you renew.
Locate your Registration
Select the "Renew a Vehicle" option and search for your registration using either:
License plate number + ZIP code
Vehicle PIN + vehicle year
The vehicle PIN is located on the registration postcard you received in the mail, and is available online.
Complete Payment
Review your registration summary and insurance information, and enter contact information for your renewal. Enter a payment method, and click "Submit."

Select the final "Pay $ Amount" on your payment summary to process your renewal payment.
Receipt & Tags
After your payment is complete, you'll receive an email confirmation receipt, and a receipt will be stored in the Receipts section of your iKan profile. Click the profile icon in the top right-hand corner of your account, then select the Receipts tab to view all of your receipts for payments made through the app. If you need a new copy of your receipt, please email support@payitgov.com.

Your new registration will be delivered in the mail in 7-10 business days.